Special Reports
Allama Iqbal: Poet-Philosopher of the East
The Milli Gazette Online
Published Online: Nov 09, 2014
By Shahid Lone
The course of human history has been to a considerable extent influenced by poets and in some sense they are the torch-bearers of history. Prophet Muhammad (pbuh) reportedly said that secret treasures found in the earth and heaven can be unlocked only by the tongues of the poets. Therefore, poets are compared to the keys that unlock the mysteries of life and death.
On such a scale Allama Muhammad Iqbal (9 November 1877 – 21 April 1938) is one of the outstanding poets of all times and a shining star in the philosophic firmament. His is the seeing eye, a feeling heart and a seer transcending religious and geographical lines.
Iqbal was the poet of the idea. Philosophy sings in his verses the message of love, hope and dignity of man. Dr. Iqbal enjoyed a charismatic persona which is reflected in his work. According to him, the evolution of life shows that though in the beginning the mental is dominated by the physical, the mental as it grows in power tends to dominate the physical and may eventually rise to a position of complete independence.
Among the Muslim thinkers Dr.Iqbal stands tall having attained a position of high eminence.
Iqbal's attitude towards knowledge is based on his revolutionary conception of the nature of man which manifests itself in his relation to environment. Dr. Iqbal believes that man's struggle with environment is not to adapt himself to it but to bend the forces of nature to his will:
Guzar ja aql se aagey ki ye noor
Charagh-e raah hai, manzil nahin
(Transcend reason as it is a light that brightens thy way, it is not your final destination).
According to Dr. Iqbal, thought is not finite, which cannot capture the infinite (i.e., the ultimate reality) but it is dynamic and unfolds its eternal infinitude in time and reveals reality to us. He holds that idea is a necessary element of mystical experience which is outside the realm of understanding.
Putting forth the intellectual and pragmatic evidence of the existence of God, he holds that man enjoys the capacity to experience the ultimate reality in the same way as he possesses the capacity to feel a tree, to build a bridge and to change the course of rivers. He holds that man is an ultimate being and is fount of all values. According to him, perception and knowledge are perception of sense, elaborated by understanding.
The future generations will continue to find way out of darkness through his magical words. Once Dr. Iqbal was asked if he believed in revelation and he replied "yes." He added that even whatever I myself write, if I wished to change it, "I cannot do it."
A majority has misunderstood his message and each has interpreted the giant of the philosophical world in his own way. This had led the great poet Rumi to say:
Har kasee az zann-e khud shud yaar-e man
Az daroon-e man na-just asrar-e man
(Everyone has made me his beloved in his sight, but I complain that they have failed to understand the message which is hidden).
Dr. Iqbal is a two-faceted personality -- Iqbal of night and Iqbal of day. The Iqbal of night is an intuitive poet and the Iqbal of day is an ocean of ideas which are a philosophical reflection of the pure, sound and conscious conduct. To say it in his words,
Meri nawa-e pareeshaan ko shayer na samaj
Ki mein hoon mehram-e raazdaar-e mai khana
(Do not consider my disorderly melody as mere poetry, for I am privy to the secrets of the tavern).
Dr Iqbal used his charisma in various dimensions, such as ideas of faqr (disdain of the matter), life after death, destiny, realization of self, material lust, man's accountability for his deeds, etc).
The union between philosophy and prophetic teachings is a landmark in man's intellectual progress and it ushers in a new consciousness which is reflected in the work and thoughts of Iqbal. He devoted his time to understanding and portraying Islam after his return from London as there is hardly any shade of traditional love in his poetry after 1908.
It would rather be difficult to elucidate Iqbal's views in regard to the idea of "Khudi" (realization of self) which became the foundation of his success as a seer.
He aroused Pan-Islamic feelings among Muslims. Now, on Iqbal daylet intellectuals not misinterpret him yet again, Let me remind them of the following couplet from the great seer's Bal-e Jibril:
Nazar naheeN to mere halqa-e sukhan meiN na baith
Ke nuktahay-e khudi hain misaal-e tegh-e aseel
(If you possess not a penetrating eye, sit not in my company,
For subtle points of Self are like a sharp sword).
The author is a research scholar in Jamia Millia Islamia, New Delhi
Allama Iqbal — Islam & Ahmadism, published by publishers of The Milli Gazette
l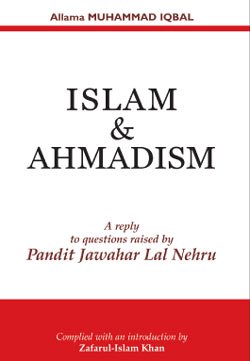 We hope you liked this report/article. The Milli Gazette is a free and independent readers-supported media organisation. To support it, please contribute generously. Click here or email us at sales@milligazette.com
blog comments powered by

Disqus